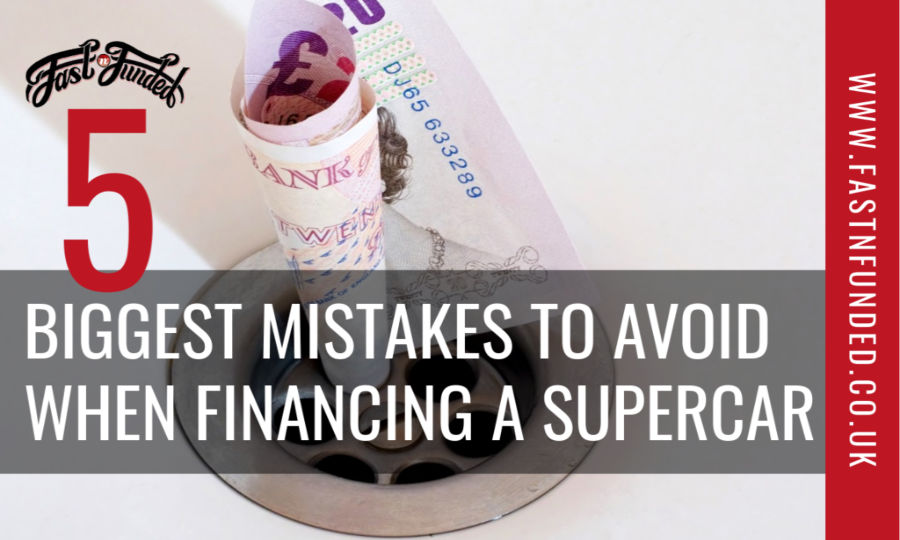 If you're thinking about financing a supercar, don't make it any harder than it needs to be – avoid these 5 biggest mistakes:
1) Wasting Precious Time
In 2018, according to a study by Cox Automotive* approx 23% of cars purchased cost more than £40,000 with the average person spending almost 14 1/2 hours researching and choosing the right one.
And the most frustrating part of the buying process?
Negotiating the best deal and completing the paperwork.
Working with a good broker can significantly reduce your frustrations and save you wasting precious time.
2) Thinking A Car Dealership Will Be The Best Option For Financing A Supercar
So what does a car finance broker do, and how does this compare with a dealership when taking out finance?
CHOICE: Usually a car dealership will only offer certain brands and funding options, whereas a good broker will be fully independent, with access to range of funders, which can lead to significant savings.

LEG WORK: A broker does all the hard work. It's like going to an independent agent to book your summer holiday – you do so because you know that they will be able look at a wide range of offers and prices from numerous suppliers and present you with the best offers on the market.

SPECIALISTS: A good car broker will have access to specialist finance houses who can often provide terms to buyers who may get declined by a dealership.
3) Sign Without Properly Checking The T&Cs
Car finance can be confusing mess, so many questions…
What type of finance is best for me – lease, PCP, Loan, Hire Purchase?
Will I get screwed by the APR?
What is the overall interest I will be paying?
What happens if I want to change my car partway through the finance agreement?
When you are busy, it's too easy to sign on the dotted line without really understanding your options, or fully reading the terms and conditions – especially if all you want to do is drive away in your dream car.
Perhaps you've had a company car for many years so have never really needed to worry about how the finance works.
The last thing you want to do (and maybe lack the confidence to do), is fight tooth and nail with a salesman to negotiate the purchase price, only to find costs have been hidden or bundled into the finance deal!
4) Walking Away Believing You Can't Get Finance
We come across many 'High Net Worth' (HNW) individuals who have been refused finance from their bank or dealership.  However, they may not realise that 'refused' is not the same as a 'declined'.
What is the difference?
Lending Policies – traditionally High Net Worth individuals could obtain finance as long as they provided a letter from a chartered accountant.  Many banks no longer offer this option and find it easier just to say no.
A good broker will have access to funders who are happy to provide agreements to HNW customers.
(Definition of a HNW customer: an individual who received during the previous financial year net income totalling an amount of not less than £150,000: and/or (b) had throughout that year net assets with a total value of not less than £500,000)
5) Choosing A Greedy Broker – Commission Is Like CAKE
When it comes to getting finance on your dream car, let's pretend the commission that the broker receives is like cake.
Take your traditional finance broker, they have gin palace offices, hot Swedish receptionists. The reps have large, expensive accounts with fancy company cars, which means, well, a lot of commission, so a big cake.
A good, reputable, independent AND regulated broker (like Fast 'n' Funded') still like a bit cake too, but they're a lean business, Superleggera, if you like, which means they don't have a lot of staff to feed, meaning they can give you the best deal every time.
And their CAKE… a small, perfectly formed slice, with a sugary glaze.
Start Your Journey Today
Give us a call to discuss financing your dream car